Taapsee Pannu Shares A Pic From Judwaa 2 But Gets Trolled For Wearing A Bikini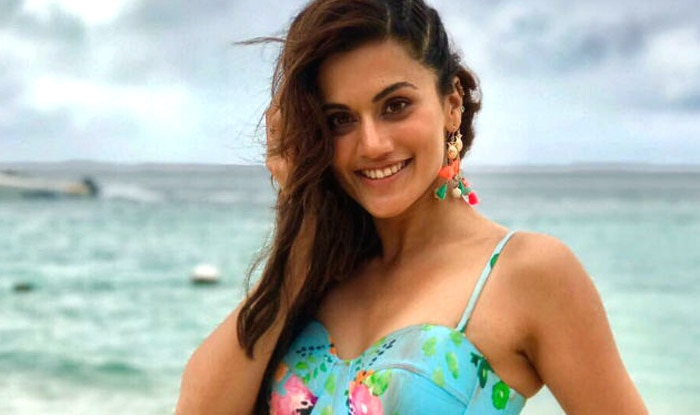 Social media has become a haven of trollers who hurl gleefully malicious comments at people on the internet. Among these "people" , are mostly actresses who in the recent past have been subjected to body shaming for wearing what these trollers deem as "inappropriate". The recent victim to social media trolling is none other than Taapsee Pannu who shared a promotional pic of her wearing a bikini from her upcoming film Judwaa 2. The troller in question tweeted, "In our country, we have freedom of expression, so why don't you remove the remaining clothes also. Your brother must be feeling proud of you after watching this." However, it was Taapsee's amazing comeback that received our attention more than the tweet in itself.
The 30-year-old actress in a comeback tweet not only shut the troller up, forcing him to even delete the post later, but also got a huge round of applause from her many fans. She wrote, "Sorry Bhai hai nahi varna pakka puch ke bataati. Abhi ke liye behen ka answer chalega????" Even the initial post that she shared along with her bikini pictures seems like a befitting reply to trollers like the person in question.
"When you are against the tide, it's YOU who needs to stand up for yourself……But don't forget the smile 😁" #Judwaa2 #AaTohSahi pic.twitter.com/qIimdBSkHY

— taapsee pannu (@taapsee) September 13, 2017
Taapsee is not the only star who has been subjected to trolling or body shaming on social media. Her Judwaa 2 co-star Varun Dhawan was trolled yesterday for wearing an underwear of a certain brand, which the netizens considered to be sasti. In the recent past, actresses like Fatima Sana Shaikh, Deepika Padukone, Soha Ali Khan and Priyanka Chopra were also trolled for their choice of attire. The Dangal actress had posted a picture of her sun bathing in a swimsuit, which attracted a lot of body shaming and negative comments. It was because it was posted right around the time of Ramzan. On the other hand, Soha Ali Khan was subjected to criticism for wearing a Bengali Sari for her baby shower, which coincided with Id. One of the tweets hurled towards her read, "Shame On You, You are not Muslim." While Priyanka Chopra was trolled for wearing a short dress in front of Prime Minister Narendra Modi, Deepika Padukone was criticized for sharing pics from her Maxim India and Vogue photoshoots.