Fukrey Returns Movie Review: Pulkit Samrat, Varun Sharma, Richa Chadda Return With A Funnier, Madder, Entertaining Comedy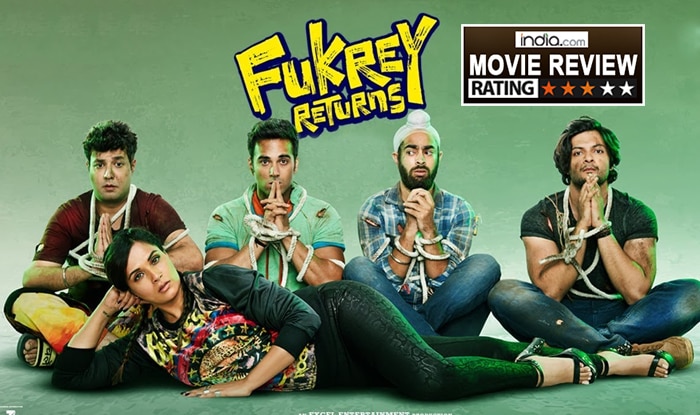 Back in 2013, Fukrey won audience's hearts with a gripping storyline, laced with entertaining punches, delivered by characters that were not only unique but hard to fall in love with. Though a non-starrer, the film went on to become a sleeper hit, thanks to good word of mouth. As Fukrey Returns hits screens on December 8, it has comparatively better buzz around it. Director Mrighdeep Singh Lamba is back with his gang of Fukras – Hunny (Pulkit Samrat), Choocha (Varun Sharma), Lali (Manjot Singh), Zafar (Ali Fazal), Panditji (Pankaj Tripathi) and Bholi Punjaban (Richa Chadda), who is back in their lives to play more havoc than ever before. Does the film outdo the prequel or is it an affair you are better off missing? Read my review.
What's it about?
All the four Fukras are leading a normal, uneventful life. Hunny and Choocha continue to come up with lucky lottery numbers that helps the gang save up some money for a life that they dream of. Until one day, Bholi Punjaban strikes back with renewed vengeance. Upon her release from the central jail, Bholi decides to find the fukras and make them pay for all that she has lost in the past one year. With the 'blessed' Choocha on their side, the feat doesn't seem that difficult to achieve. But their life turns upside down when the same 'gift' gets them in trouble. To make things worse, Choocha can now predict the future which only has more trouble, deeper ditches and lots of dangers on their way ahead. The scam is bigger this time and stakes are higher, with not just Bholi but the police and Delhi-waallahs looking to catch hold of the fukras to settle scores! Will the infamous four come out of this mess unscathed or will they go down with Bholi? Will they ever be able to go back to a normal, respectable life? So will this be the beginning of a better chapter for them all? You can read a quick review of the first half of the film here
What's hot?
The characters all the way! Four years have passed since the first part of the film and yet, the narrative helps you make an instant connect with all the four fukras, Panditji and Bholi. Amongst all these, Choocha shines, as bright as he did in the first one. He is so silly that he is funny and even when the frame is on someone else, you await his reaction to every situation.
The twists and turns in the story and the suspense element keep you glued to your seat. While there are not enough moments that will send you ROFLing, the performances make up for all that is lost. If you were to compare, you'd still find Fukrey better than the part 2. It was the novelty factor that was undeniably impressive. However, that aside, Fukrey Returns doesn't disappoint. The writer Vipul Vig and director Mrighdeep Singh Lamba maintain the essence of the characters and the city of Delhi, where the film is set and that alone scores a big plus for the sequel.
First Fukrey and now Fukrey Returns, don't be surprised if you are left wishing for Fukrey Once More, this time with Bholi Punjaban in a never seen before avatar. Here's how a sequel should be made.
What's not?
Some sequences have been stretched beyond a bearable point making you wish you had a fast forward button to get on with what's next. There are moments that are meant to be funny but fail to even make you smile due. The weak punchlines make these look forced. You'd wonder if the focus somewhere shifted on the number of laughter inducing moments instead of the quality of gags.
What to do?
That I don't have to recommend the film to you just due to lack of Bollywood film options this week should tell you what you need to know about Fukrey Returns! While it would really add to your experience if you have watched Fukrey, but even if you haven't, you can still go and enjoy a few laughs in this funnily mad entertainer. PS: Choose friends over family for this one.
Verdict – India.com rating: 3 stars