Bigg Boss 11 October 10 2017 Full Written Update: Bandgi Kalra and Puneesh Sharma Get Intimate After Lights Go Off!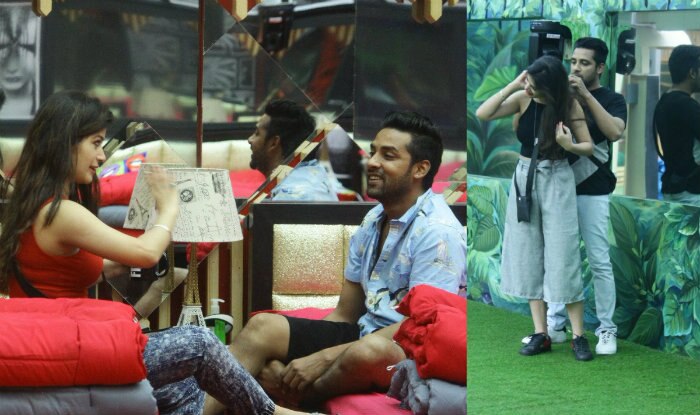 Bigg Boss 11 fans are totally waiting for the latest episode, thanks to the ugly fight between the contestants. Although the format of this Salman Khan show allows the participants to fight endlessly, the contestants in the new season are taking this literally. Vikas Gupta and Shilpa Shinde's fights are not a new thing for the fans anymore. They keep on blabbering things to each other in the house and each one of them has supporters. However, in the latest episode, Vikas Gupta gives up on Shilpa Shinde and also fights with Hina Khan and Puneesh Sharma. As everyone gradually goes against him, he breaks down! Here's how the episode unfolds…
11.15 pm to 11.30 pm- Bandgi and Puneesh chit chat privately. Puneesh also kisses her hands. They get intimate in the dark. Puneesh says that he is not afraid of anyone. In the next episode, Arshi and Sapna will be seen having a heated argument with each other.
11.05 pm to 11.15 pm-Shilpa Shinde says that 'i'm a queen and you are a sevak to Vikas Gupta. The contestants say that queens have gone crazy after they got this role to play. Benafsha, Hina, Bandgi, Akash mock the queen. Sapna argues with Hiten and Arshi that she won't press the legs of Arshi even if it is a task. She starts crying and Vikas says that she need not do the task. She ultimately does the task and gets emotional. Hiten consoles Sapna and she hugs him.
10.50 pm to 11pm– Vikas Gupta runs away from the house through blinds. Bigg Boss calls him in the confession room and asks him why he did so. He says that he does not know handle the comments. Bigg Boss asks him to react less on the comments. Vikas Gupta apologises and says he won't do this again. Sapna and Mehjabi gossip about family issues. Sabyasachi announces the task about a king and his two queens- a good queen and bad queen. Hiten is the king and Arshi and Shilpa will be queens. The winner queen will rule with the king as captain. Arshi is declared as bad queen and Shilpa as the good queen by bigg boss.
10.40 pm to 10.50 pm– Shilpa Shinde just roams around the house provoking Vikas. Hina asks Vikas Gupta whether he is gay or bisexual. He says that he does not wish to share this information with anyone. Hina Khan lashes out that she does not want to talk to him again and that Shilpa Shinde does right with him. Hina Khan calls him a bheegi billi. Bandagi, Puneesh and Shivani also go against Vikas. Hiten and Luv try to console everyone. Vikas Gupta goes in the bathroom and cries. Shilpa Shinde asks him to cry more and says that this is how he is supposed to feel. Jyoti Kumari tries to console Vikas. Vikas says that Shilpa is just lying for the sake of the show.
10.30 pm to 10.40 pm– The contestants sit chit chatting with each other. Mehjabi cries over her family issues and others console her. Akash Dadlani strikes a conversation with Lucinda. Shivani, Sapna, Hina, Mehjabi talk about daily issues. Akash introduces Lucy to other contestants informally and flirts with Lucy too.