For Neech Barb at PM, Rahul Gandhi Asks Mani Shankar Aiyar To Apologise


New Delhi: 
Mani Shankar Aiyar, who has called Prime Minister Narendra Modi a "
neech aadmi
" in a new attack, earned a swift riposte from the Prime Minister, who said at an election rally in Gujarat, "They can call me
neech
, but my work is
oonch
." Rahul Gandhi has asked Mr Aiyar to apologise to the Prime Minister.
The Congress, PM Modi said as campaigning ended for the first phase of assembly elections, has again insulted his home state Gujarat. "Gujarat will reply," he said, also stating, "Yes, I am from the poor section of society and will spend every moment of my life working for the poor, Dalits, Tribals and OBC communities. They can keep their language, we will do our work."
The Prime Minister described Mr Aiyar's comment as an example of the Congress' "Mughal values that teach to demean castes and talk about upper and lower castes."
With voting in Gujarat on Saturday, the Congress has wasted no time in condemning Mr Aiyar's comments. " I do not appreciate the tone and language used by Mr Mani Shankar Aiyer to address the PM. Both the Congress and I expect him to apologise for what he said," Rahul Gandhi, who is set to be Congress president, said.
Ahead of his massive victory in the 2014 national election, Mr Modi was derided by Mani Shankar Aiyar as a tea seller who could never be Prime Minister. "Narendra Modi will never become the Prime Minister of the country… But if he wants to distribute tea here, we will find a place for him," Mr Aiyar had infamously said.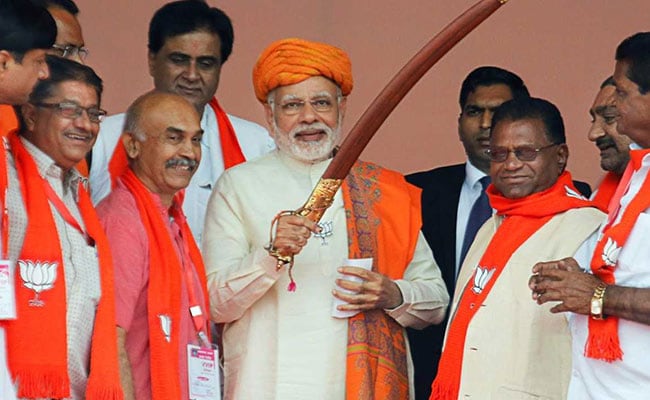 In his campaign, Mr Modi had offered his credentials as a self-made leader, stressing the fact that he sold tea on trains as a young boy to help support his family, contrasting his modest origins with those of the Congress' Gandhi family which controls all power in the party.  
Today Mani Shankar Aiyar said, "Ye aadmi bahut neech kisam ka aadmi hai, is mein koi sabhyata nahi hai, aur aise mauke par is kisam ki gandi rajniti karne ki kya avashyakta hai?" 
He was referring to PM Modi's attack earlier in the day on the Gandhis while inaugurating an international centre named after Dalit icon BR Ambedkar in Delhi.
PM Modi said parties seeking votes in the name of BR Ambedkar had tried to erase his contribution in nation building and did little to build the Ambedkar Centre first conceptualised 23 years ago.
"More people are still influenced by BR Ambedkar's ideas than the family for which such efforts to erase his contribution were made," the PM said, adding, that while the centre was first planned in 1992, when the Congress was in power, "nothing happened for 23 years… when our government came, we not only laid its foundation but are also dedicating it to the nation today."